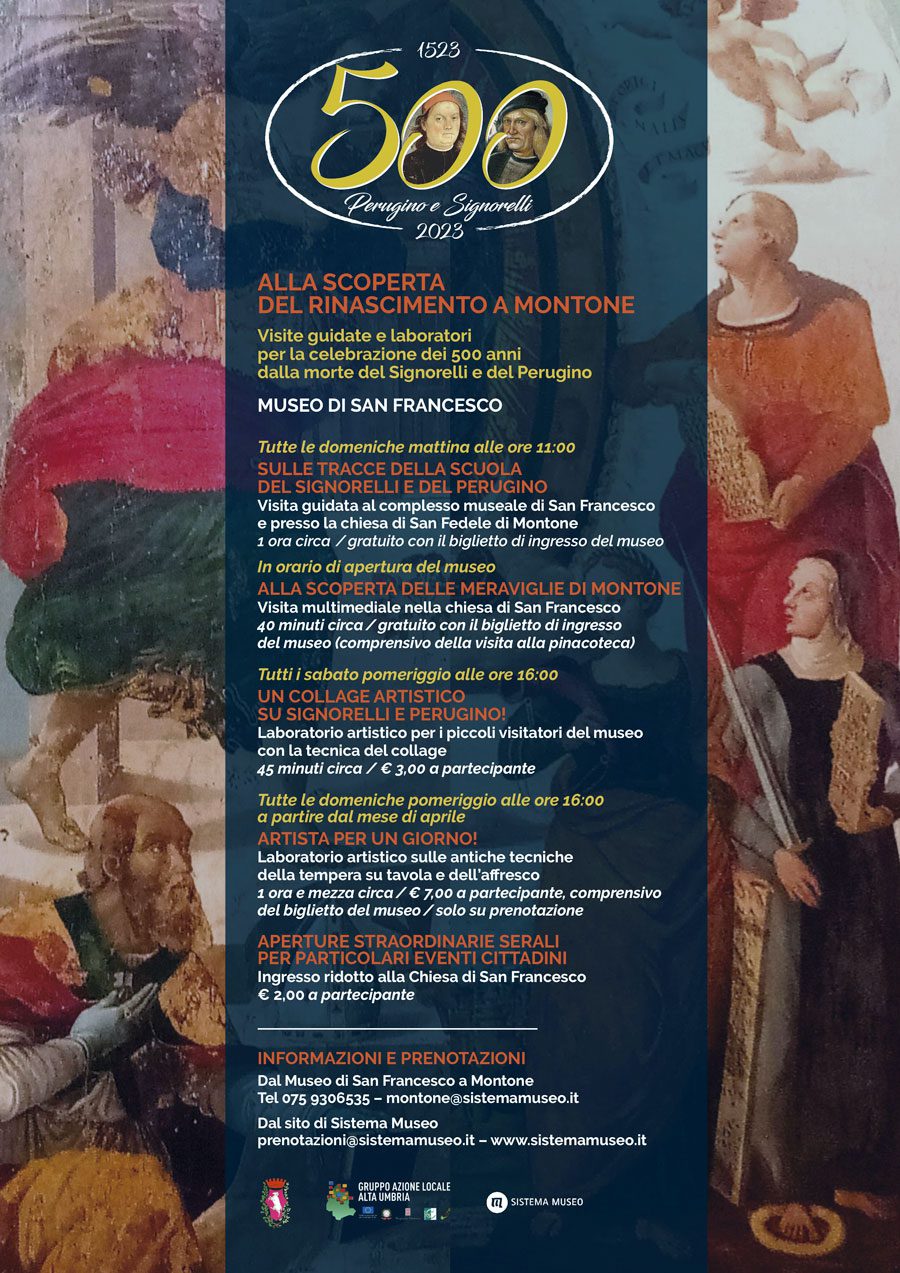 Discovering the Renaissance in Montone
Guided tours and workshops for the celebration of the 500th anniversary of the death of Signorelli and Perugino
On Sunday mornings, at 11.00 and included in the museum entrance ticket, there will be a thematic guided tour, ON THE TRAILS OF THE SCHOOL OF SIGNORELLI AND PERUGINO.
On Sunday afternoons, starting from the month of April, and by reservation only (at a single cost of €7 per participant), it will be possible to participate in ARTIST FOR A DAY!: an art workshop on the technique of fresco and tempera on wood.
Saturday afternoon at 16.00, will be dedicated to the little ones with an art workshop (at the cost of only €3 per participant) dedicated to the collage technique: AN ARTISTIC COLLAGE ABOUT SIGNORELLI AND PERUGINO!
We also remember the usual appointment DISCOVERING THE WONDERS OF MONTONE, the multimedia visit present in the church of San Francesco, which explores the history of Montone, the characters who have distinguished it and its magnificent works of art. It is possible to participate in the morning and afternoon tour during the museum's opening hours with a simple entrance ticket.
Extraordinary evening openings will also be scheduled from 9.00 pm to 11.00 pm: on these occasions the door leading to Piazza San Francesco will be opened to allow visitors access to the cloister and the opportunity to visit the Church of San Francesco with the reduced ticket of € 2 ,00 (also including the multimedia path).
Info:
Phone: 075 9306535
email: montone@sistemamuseo.it